This plate, which you have seen over and over in my product photography, was a wedding present for my paternal grandparents and the initials are their last names joined: B&H – Bellows (grandfather Rowland) & Hammond (grandmother Emily). It is silver plate with the silver plating on the center of the dish obviously now gone.
I love the contrast in textures between the center and the edges, and I love the art nouveau design of the botanical elements and how they meander over the surface of the border.
It's oval. I love that too. It is a treasure for me. I don't know that it is valuable.  Probably it's not as it's not solid silver but plate with part of its plating gone.  But it is one of the things I have that I really love for its combination of refined elegance and rusticity from use.
It was well-loved before it ever came to me, obviously used many times. I really enjoy the evidence of the social lives of objects, their wear, their damage, their patinas and how these vestiges evoke particular pasts and unknowable moments of human interaction.
I find that really beautiful.
I don't remember when this came to me.  I moved many times over the years and had things packed away in storage for a long time while I was living overseas in Indonesia, then in Australia.  Things stayed in storage while I lived in a small apartment before I bought my house.  It's one of those things that I feel I discovered, uncovered, like some amazing artifact from an excavation of things lost and finally found.  This plate is one of those things that made me gasp when I unwrapped it and say – involuntarily in a whisper – I love this!  I want to feel that way about everything I have.  I want to feel that, even say it, every time I pick up the objects in my house, put the jewelry pieces on.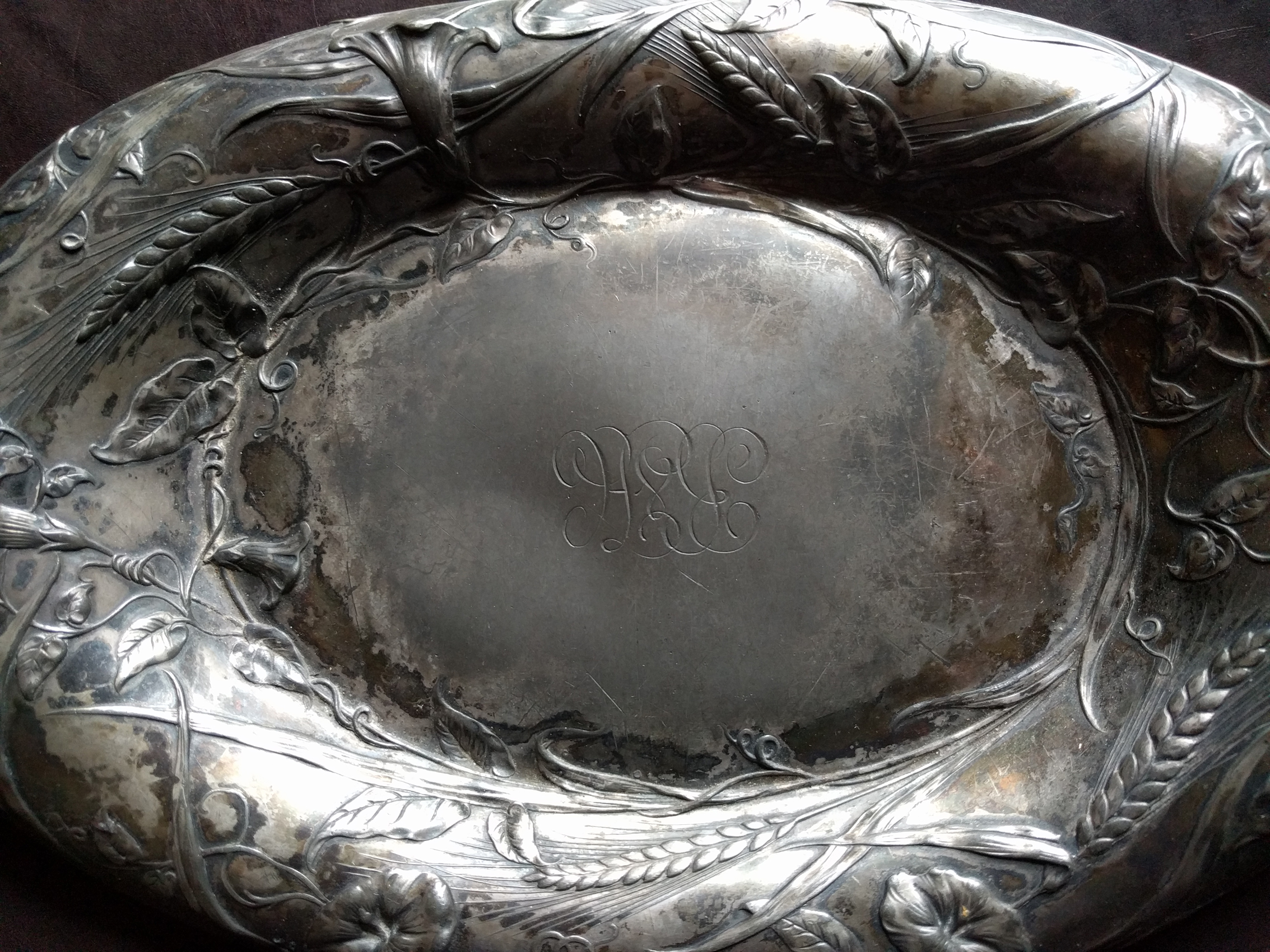 Objects can carry quiet, gorgeous, recollections that flit across the mind daily and almost unnoticed every time we touch them, see them, like the shadows of birds flying over us.
I have a colleague who started doing research on attics.  I can't remember whether he extended his research to include (household) storage in general but I have always thought of the attic in his research to be a conceptual one as much as a (flexible) physical location. Don't we all have our attics, even if they are only in our minds? This treasure-plate came out of some space-time-mind attic and is now part of an inspiration center in my creative life where the things I make each rest for awhile so I can show them to yo